Nitshill Memories
"Shops & Pubs"
Where Brannan's is now, there was shops there, really old, and you could go up the stairs and there was a café up there run by a dad, two brothers and a sister.  There was also a hairdresser and a Co-operative draper that was there. When they got knocked down, they built new shops next to Peat Road. Donnie Johnstone moved down, he was the barber, and then he opened a laundrette, and the people from the café went down there, and the paper shop that the Doyle's had – Betty, John, and Henry Doyle.  Next to that was a wee grocer, Wullie Currie had that, and another café, Vic's. Next to Kirk Brae there was a house that had a wee shop, run by Annie Wallace."

Jean Barnes, Arden
"We had a poacher who used to come round the houses selling chickens, fish, rabbits, which, well, we all ate well, put it that way."
Kathleen's mother also bought fresh meat from the butcher In Nitshill and eggs from Clark's Farm, which was across the field towards Barrhead. She recalled a shop run by Annie Wallace, who "sold everything", and also a shop at the corner of Prestwick Street owned by Sam Mullen, who sold sweets.
Kathleen Cassidy, Glasgow
Alex also talked about the shops in the area: Galloways the butcher, Galbraith's, Co-operative, chemist, and Mackie's the  newsagent. There were also two ice cream vans that came round every night, one was called Jaconelli. Alex mentioned the Househill Tavern, the Royal Oak, the Cavendish, Levern Water Hotel (where his sister had worked for 26 years), The Railway Inn and the Volunteer Arms. There was one bookmaker called 'Kings', and a little row of shops on Nitshill Road. There is only one pub in the area now; that had been named the 'Cavendish' but is now called 'The Hazelwood'. The area now has four bookmakers, some shops and a couple of fast food takeaways.
Alex Dodds, Glasgow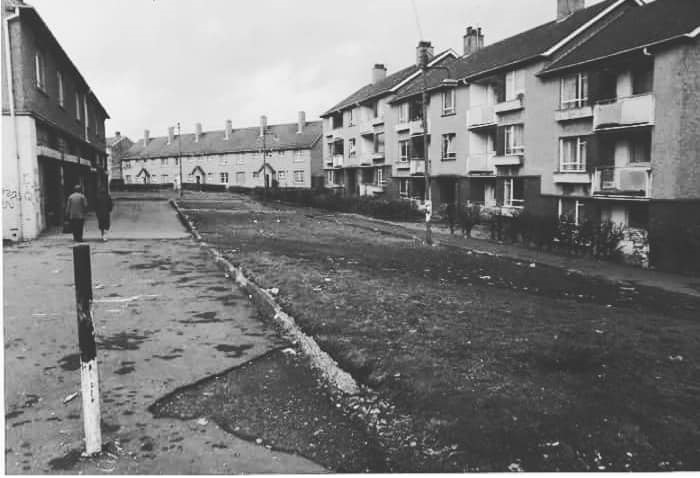 The Househill Tavern, the Royal Oak, the Cavendish, the Levern Water Hotel, The Railway Inn, and the Volunteer Arms were all mentioned by Eddie.
Eddie Foy, Paisley
I had my wee list; you'd give him a wee note from your Ma, and we could get fags then, and my Ma would get ten 'Club'. He would put everything in the bag and hand you the bag, and then your Ma would go round and sort it out when she got paid… We had the Pollok Centre, and me and my brother ,now and again, would get sent to go and get some stuff, bigger things that my Ma needed, but it would be a walk down

that burn path. I used to love it because I used to think it was responsible. We would get sent but my brother would always bring a trolley back. He would push the trolley all the way back right along that burn path. I'd be dragging it and he'd be pushing it. We had an ice cream van and I'm sure there was a wee grocery van used to come round… We had a ginger van, Solripe, who used to come round and deliver the ginger, and all the weans used to go mental when that van came round. I remember all the weans climbing on to the back of the van to try and steal the ginger and getting a hudgie on the van. All the weans used to jump on the van; honestly, I'm surprised none of these weans were ever run over."

Kathleen Larkins, Glasgow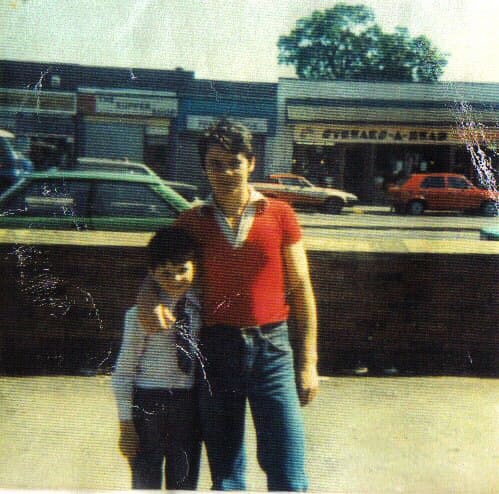 Colin remembers that there were several pubs in Nitshill. He sometimes socialised in the Railway Tavern and the Nia Roo. He also remembers the Volunteer Inn, the Cavendish, Levern Waters Hotel, and the Royal Oak. Some of those pubs had not existed when he was growing up. The only one he remembers being there, then, was the Househill Tavern. People who wanted to drink alcohol on a Sunday had to go outwith the Glasgow City boundary, due to local licensing laws.  They could go to Eastwood Mains or the MacDonald Hotel at Giffnock Toll, which would be full on a Sunday with people coming in from Glasgow.  There was also a fire station in Nitshill, opposite the Darnley Hospital.
Colin McEwan, Glasgow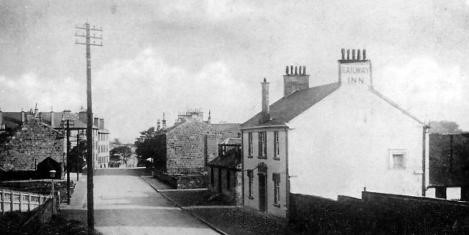 On the subject of shops, Michael said that there was a row of shops on Nitshill Road, at the top of Peat Road, and the vans that went around the area were a butcher van, a bread van, ice cream vans, and Alpine juice van. 
Strang's, fishmonger, dairy, Henry Doyle newsagent, a chip shop; Donnie Johnstone the barber, he came from Maybole Street, his mother's name was Capaldi, but he was always known as Johnstone. Maguire opened up a butcher shop in Nitshill and I worked in there for a while. There was a Co-operative building past the Cavendish.  You had a Co-operative butcher and a Co-operative grocery, and then across from it, just at Cleeves Road, you had the Co-operative drapery,  and then you had the shops at Craigbank." On pubs, Michael said: "The Househill, The Royal Oak. the Cavvie, the Levern, The Railway Inn, the Volunteer Arms, and up in Dove Street you had he Masonic, and you also had the Nitshill Bowling Green. You didnae go thirsty!"

Michael McKernan, Glasgow
For those youngsters out there who thought that recycling was a new invention:
Co-op, vans, Italian shop, Galbraith's. The vans used to come round selling ice cream.  We had milk delivered in big churns. I loved the glass bottles of orange; nothing beats that. We used to take empty jam jars back to the shop for money."

Theresa Mulheron, Jersey, Channel Islands
There was a row of houses where my Dad was born, maybe three or four; sort of, a miners' row, and then there was a wee shop, a wee sweetie shop. It was a woman from  Barrhead that ran it; her name was Annie Wallace, and we used to get sweeties out of Annie's. And then, just on that building there, was two doors right on to the main street, and the first door was a man we called 'Sergeant Tait', and the next door was the Thomson's, and their boy was Jim; and then you walked into Pinmore Street and walked about twenty yards, when you came to the upstairs houses, and that's where we stayed. There were two staircases, so we were up a few stairs and into the house, and that was the kitchen with the old black range. Through, was the lounge, where my Mother and Father slept in. I always remember a beautiful big coal fire.  Then, upstairs was an attic where me and my brother slept."

Alistair Mutrie, Glasgow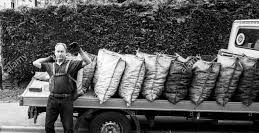 The Co-operative and a baker. When we made our stew for New Year, we'd take our dishes over to the baker and he would put a pastry on the top for us.  It was on the corner at Peat Road, the baker…  They built a hotel, the Levern Water, I worked in it.   There were a lot of pubs, I worked in them all bar one that was all men, the Househill Tavern. It was just men that worked in it, there wasn't a barmaid. The Volunteer Arms, that's near the railway, I worked in that, I worked in The Royal Oak. I worked in the Cavendish as well. I was fed up travelling for work, so I just went in and asked.   The man said he wasn't looking for anybody, but I'll take you on.  I was there for a few weeks and then I was transferred to the Tradewinds near Darnley, and then to the Rowallan at Thornliebank, I had to get away from it, it was all prostitutes that went into it, so I left, handed in my notice and left.   I went back on the buses again."

Isabella Pert, Glasgow
 On Nitshill Road there was a Co-operative draper shop, where the Levern Water Hotel was later built, and a Co-op grocer across the road. There were shops at the top of Peat Road, which haven't changed very much. There were others at Craigbank Drive where Margaret worked. These included a Galbraith's, Co-op grocery and butchers, Clan Chemist, and a company called H&M, who ran a dairy and a newsagent's shop. You could buy butter in the dairy from the barrel, and the assistant would cut you a portion of cheese from a huge block. There is still a row of shops there. Although there is now a big shopping centre with a large Tesco, where Margaret works, at Silverburn. She thinks that some people still like to shop at small shops. A lot of customers that they had in the old Tesco say that the new superstore is too big for them to walk around. Margaret thinks that the new store lost a lot of their older customers because of that.
Margaret Steele, Glasgow
Neil says that there were not many shops in the area, just the ones on Nitshill Road. There was an Italian shop, which also sold ice cream, and was open at night too. There were no Asian shops at the time but there was a butcher, fishmonger, and paper shop. Neil's mum mainly did her shopping in the butcher and fishmongers. A small supermarket opened in Nitshill in the 1970s. He thinks it was 'Templeton's', and it was the first shop that you could walk round. There was also a Co-op at Househillwood where you could walk round too. He remembers queueing up for bread, which he thinks was during a bakers' strike, as you were only allowed one loaf per person. As he came from a big family, he remembers all of the family queuing up at different places in the queue. His mother must have used a lot of bread, as she had five children.
Neil Stewart, Glasgow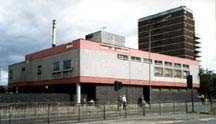 The Levern Water Hotel was built on Nitshill Road around 1970, before Susan went to work in Crookston Home. Prior to that, the men had to go to Barrhead or somewhere like that for a drink on a Sunday, because the pubs were shut. Hotels bars were able to open after 12 noon, so they built the hotel.
It was like a stampede [when the Hotel opened]. They were 6 six deep at the bar trying to get a pint, you'd have to see it to believe it. They were like animals; you'd think they'd never seen a drink in their lives. Every Sunday was the same till they got their order."
The staff were kept busy as the hotel opened from 12 noon to 2.30pm,  then closed for the afternoon. It then re-opened at 6.30pm  at night, and it was the same, they were clamouring at the door to get a drink.Susan Stewart, Glasgow

I used to work in the Househill Tavern, and my father worked in there with my grandfather and three of my uncles, not all at the same time. I started when I was nineteen, I was actually saving up to get married so I'd taken a part time job. The pub itself was a great pub, it wasn't much to look at inside, the décor was terrible. Paddy Maguire was the manager and he kept a really good shop. Everybody knew everybody in there; at five o'clock on a Friday they were chapping at the door to get in. Anyway, when I started, all the old fellows used to wind me up something terrible about various things. They told me that Clark Gable was in there during the war and I said oh come on, what's Clark Gable doing in here? They said he was in there for a pint during the war.  I never bothered about it, but years later I saw a letter in a newspaper there was this girl, who stayed somewhere down in Ayrshire, said that when she was about eleven or twelve she was in at the cinema, and during the picture a group of American servicemen came in and they sat behind her and were making a carry on.   She turned round to tell them to be quiet and she said, "I swear to God, one of them was Clark Gable! " Later on, in the 1970s, she wrote a letter into a newspaper saying I've told everybody it was Clark Gable, is there any possibility it could've been?  The reply from the newspaper was that Clark Gable was stationed at Prestwick Airport for a short time and he attended the military hospital at Cowglen. So that would have brought him through Nitshill to get to Cowglen, so it just could be true, you know. I checked it on Wikipedia and he definitely got shot through the foot in the war. So, there you go, Clark Gable in the Househill Tavern; he was the biggest star in Hollywood at that time! So that was the story of Clark Gable in Nitshill."

Eddie Foy, Paisley